excursion to the institute of hygenics and micro-biology of Fehling and Gogel, and two other FU university buildings
Institut für Hygiene und medizinische Mikrobiologie, the "mouse shelter", and the Klinikum on June, 9th, 2011, half past one.

Because the number of participants is restricted to 15, we kindly ask for an immediate response.

The tour costs 10 euros, reduced it's 5 euros.

ACHTUNG!
The BVG announced that they could be on strike in the morning! Please inform yourself on their webpage.
meeting point and time changed! meeting point is the north-west exit of S-Bahnhof Lichterfelde-Ost (Bahnhofstraße) at half past one.
You can reach the station with S25 (Henningsdorf, Gesundbrunnen, Potsdamer Platz, Teltow Stadt) but also with the regional trains RE 3 (Schwedt/Stralsund Berlin Hbf, Elsterwerda) RE 4 (Wismar, Schwerin, Spandau, Berlin Hbf, Ludwigsfelde) RE 5 (Stralsund / Rostock, Neustrelitz, Oranienburg, Berlin Hbf, Wittenberg/Falkenberg)

From there it's a 15 minutes away to the animal laboratories.

Just next door is our next destination. We will have entry to the Institute of Hygenics at 3pm, Herr Trübel will give us a tour.

After, around 4pm we'll have a look to the Schwesternheim housing on the other side of the street and have a 10 minutes walk to visit the Klinikum Steglitz.

The tour will end in a place with drinks and food and discussions nearby.




Institut für Hygiene und medizinische Mikrobiologie der FU Berlin
Hindenburgdamm 27
The Institute for hygenics and medical micro-biology was built in 1966-74 by Fehling and Gogel. They developed an own language combining the organic approach of Hugo Häring and Hans Scharoun and Le Corbusiers formal brutalism as found in the Carpenter Center built few years before. Both were students and followers of Hans Scharoun, whom built the Philharmonie and the state library.
It contains in a lively and functional way a research centre in virology, hygenics, and micro-biology of the FU Free University in two main parts: the educational section with lecture halls and library and the research section with labratories and technical supply.
further information
>>> here.
Zentrale Tierlaboratorien der FU Berlin
The central animal laboratories of the FU Free University by Gerd Hänska was planed 1966-72 and built in 1971-81.
As there is a building of Gerd Hänska next to the Max-Planck-Institut für Bildungsforschung we saw on the other tour, we'll find another one of him here: the so called "Mäusebunker", the central animal laboratories of the FU, built in 1971-1980. More about it
here and
here.
Together with his wife Magdalena he built the now Walt-Disney-Schule called school in Gropiusstadt in Efeuweg in 1968. Gerd was born in 1927 in Berlin, Magdalena in 1924.
Klinikum Steglitz
The Central hospital of the FU Free University was built in 1959-67 by Curtis, Arthur Q. Davis (from New Orleans) and Franz Mocken as contact architect.
Franz Mocken was together with Werner Düttmann the contact architect of Hugh Stubbins for building in 1956-57 for the Interbau (Hansaviertel) the Kongreßhalle, now called Haus der Kulturen der Welt just before this building. To both he was invited by the Benjamin-Franklin-Foundation, that financed both.
On Wednsday, May 25th, there was an excursion to the
Max-Planck-Institut für Bildungsforschung
, of Fehling and Gogel as well.
More on the
other tours
.
The Tour is a cooperation of Büro Schwimmer and
architectureinberlin

Institute for hygenics & medical micro-biology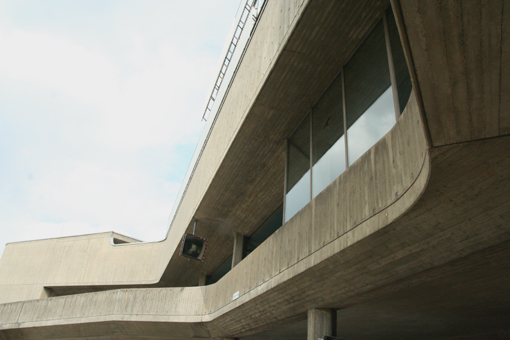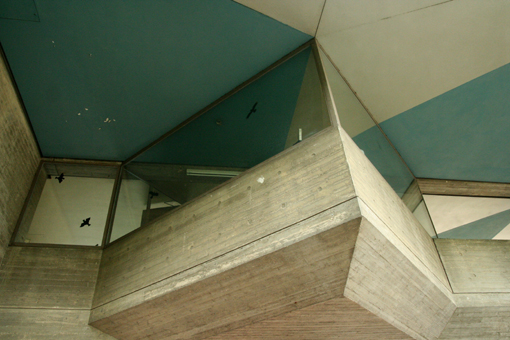 central animal laboratories of the FU



Klinikum Steglitz of the FU

all photos: Sven Eggers